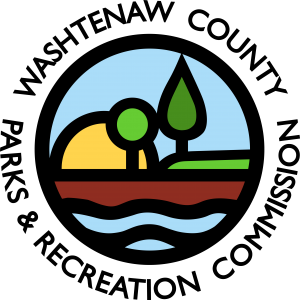 About Leonard Preserve
Owned by Washtenaw County Parks and Recreation Commission (WCPARC) since 2004, Leonard Preserve protects 259 acres of habitat along nearly 2 miles of shoreline of the River Raisin.  Leonard Preserve's boundaries lie within both the Village of Manchester and Manchester Township.  The close proximity to this community has resulted in Leonard Preserve becoming a popular hiking destination for many local residents.  Historically, the land has been used for agriculture, since ownership, WCPARCs has invested in trail and habitat improvements.  Many former agricultural fields are now planted and maintained as native prairies and other habitats have been improved through efforts to removing invasive species.
Early in ownership, staff and partners began voicing concerns that the growing deer population was causing damage to native plant communities.  Since 2009, WCPARC has researched deer impacts on natural resources at Leonard Preserve.  All data indicate the deer are causing significant damage to the native plant community.
In response to this data, WCPARC will be partnering with Michigan Operation Freedom Outdoors (MiOFO) to open Leonard Preserve for selective hunting in fall 2016.  MiOFO is focused on providing outdoor recreation opportunities for wounded veterans and individuals with health challenges. Hunting will be limited to deer only, and will occur on specific dates and locations within Leonard Preserve, as described in below.  MiOFO will be registering hunters for the events.
2016 Hunting Events

Disability Criteria for Leonard Preserve Hunting Events
Independence Hunt – Oct. 13th-16th
Veterans with 100-percent disability or rated as individually unemployable by the US Department of Veterans Affairs
Hunters who possess a permit to hunt from a standing vehicle
Regular Firearm
Nov. 15th – 30th
Veterans with 90-percent disability or rated as individually unemployable by the US Department of Veterans Affairs
Hunters who possess a permit to hunt from a standing vehicle
Hunting Rules
All hunters must follow Michigan State laws and regulations. For a complete listing of regulations and legal descriptions, please visit michigan.gov/dnrlaws

All hunters must have MDNR required permits, licenses, and tags before hunting

All Hunters must have registered with MiOFO and be issued a permit from WPCARC to hunt
All Hunters must carry WCPARC permit and documentation of disability rating while hunting at Leonard Preserve
No hunting any wildlife other than deer
No alcohol or illegal drugs
No buck shot
No fires
No camping
No baiting
No cutting of woody vegetation
No marking or defacing of any rock, plant, tree, shrub
No marking trails with any man-made materials
No vehicles outside of the parking lot
All temporary structures, hunting equipment, and trash must be removed from the site. WCPARC is not responsible for structures or materials left at the Preserve.
Deer harvested must be fully removed and be reported to WCPARC within 48 hours of the closure of an approved hunting season. Deer shot, but not recovered, should be reported within 24 hours to WCPARC.
Registration Process
All interested hunters must first register for the hunt.  Once registered, MiOFO representatives will work to schedule hunters into the existing hunting events schedule.  Once scheduled, MiOFO will confirm the need for a hunter to receive a hunting permit from Washtenaw County Parks and Recreation Commission (WCPARC). Only once the hunter has received the WCPARC permit are they confirmed to hunt at Leonard Preserve.  The WCPARC Permit is not a kill tag.  Hunters must possess appropriate deer license(s) to harvest deer on private land in DMU 081.  Registration will be ongoing from Sept. 9th through the end of the year. Hunters are asked to include scheduling availability for each hunting event they are interested in attending.
Eligibility Documents
All eligibility documents need to be submitted to Tom Jones, MiOFO Coordinator at tjones@eisenhowercenter.com, or call 734.612.6677
Copies of eligibility documents should be carried at all times while hunting at Leonard Preserve.
If you have questions regarding Leonard Preserve, contact Allison Krueger, Washtenaw County Stewardship Manager at kruegera@ewashtenaw.org