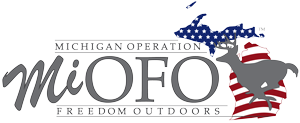 Michigan Operation Freedom Outdoors (MiOFO) is excited to announce the "David Pollie Kid's Classic".
David Pollie was injured in his youth, and while his injuries left him paralyzed, he never lost his zest for life, or his love of the outdoors. He had an amazing family, who supported him and loved him. Together they overcame many obstacles, all with a smile on their faces and mutual admiration in their hearts. Aided by his beautiful service dog, Emmy Lou and a host of lifelong buddies, Dave lived his life to its fullest, despite his limitations.
Dave's standard wheelchairs limited his ability to enjoy one of his greatest pleasures: time spent outdoors with his brother, hunting. To get Dave back outdoors with his independence, his family started a fundraiser to purchase a Trackchair. His friends and family raised half the money needed but fell short of their goal, and contacted the local media to help raise awareness of his need. An anonymous donor, moved by Dave's story, donated the remaining money needed for the Trackchair.
Sadly, Dave left this earth, but he lived his days to the fullest, and we are proud to have known him. He had a spark in his eye and a smile on his face that we all miss, but will never forget. It is in this spirit of giving and with great respect to Dave, and his family that MiOFO will provide an Action Trackchair to someone else with this same love of life spent outdoors, hunting, fishing, or simply enjoying nature.
Only one contest entry may be submitted per person.
The entry form can be found here, and complete contest rules can be found here. The winner will be notified no later than August 31, 2018.
Contest entries should be submitted to:
Program Director, davidpollieclassic -at- gmail -dot- com
MiOFO is a cooperative partnership between the Michigan Department of Natural Resources, Eisenhower Center, Passing Along the Heritage Foundation, the Brain Injury Association of Michigan, Safari Club International Foundation, Michigan Building and Construction Trades Council, Michigan United Conservation Clubs, the Disabled American Veterans, Michigan Outdoor Mobility and more. The mission of MiOFO is to provide improved outdoor recreation opportunities for individuals with health challenges; and, to coordinate a support network that facilitates their recovery through connecting with nature.