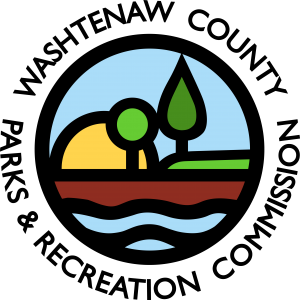 About Leonard Preserve
Owned by Washtenaw County Parks and Recreation Commission (WCPARC) since 2004, Leonard Preserve protects 259 acres of habitat along nearly 2 miles of shoreline of the River Raisin.  Leonard Preserve's boundaries lie within both the Village of Manchester and Manchester Township.  The close proximity to this community has resulted in Leonard Preserve becoming a popular hiking destination for many local residents.  Historically, the land has been used for agriculture, since ownership, WCPARCs has invested in trail and habitat improvements.  Many former agricultural fields are now planted and maintained as native prairies and other habitats have been improved through efforts to removing invasive species.
Early in ownership, staff and partners began voicing concerns that the growing deer population was causing damage to native plant communities.  Since 2009, WCPARC has researched deer impacts on natural resources at Leonard Preserve.  All data indicate the deer are causing significant damage to the native plant community.
In response to this data, WCPARC will be partnering with Michigan Operation Freedom Outdoors (MiOFO) to open Leonard Preserve for selective hunting in fall 2016.  MiOFO is focused on providing outdoor recreation opportunities for wounded veterans and individuals with health challenges. Hunting will be limited to deer only, and will occur on specific dates and locations within Leonard Preserve, as described in below.  MiOFO will be registering hunters for the events.
2018 Hunting Events
Please join us at our third annual Independence hunt in the beautiful Leonard Preserve, in Manchester, Mi. We will be helping save over $80,000 for the residents which would go towards hiring a deer management company to come in and harvest the deer. MiOFO will be providing this service for free and will be filling the freezers for those on a fixed income. The Independence hunt will be Oct 18-19 and Oct 20-21. We will host 5 different individuals for 2 days, then 5 different individuals for the second two day hunt. This is to provide more opportunities for those who do not normally have them. The Leonard Preserve is a Washtenaw county park. It has been untouched since 2004.
If you meet the Independence hunt criteria and would like to participate, please fill out your information below. We will have the drawing Oct 9th . We will also have an alternate list on standby for those who are not drawn, but can fill in should someone harvest a deer. This is a one and done hunt. One tag limit. Criteria Listed here.
Please fill out all required fields on the form located here.
Disability Criteria for Leonard Preserve Hunting Events
Independence Hunt – Oct. 18th-21st
Veterans with 100% disability, or rated as individually unemployable by the US Department of Veterans Affairs.
Hunters who possess a permit to hunt from a standing vehicle or to hunt using a laser-sighting device.
Hunters who are legally blind may also participate.
Registration Process
All interested hunters must first register for the hunt.  Once registered, MiOFO representatives will work to schedule hunters into the existing hunting events schedule.  Once scheduled, MiOFO will confirm the need for a hunter to receive a hunting permit from Washtenaw County Parks and Recreation Commission (WCPARC). Only once the hunter has received the WCPARC permit are they confirmed to hunt at Leonard Preserve.  The WCPARC Permit is not a kill tag.  Hunters must possess appropriate deer license(s) to harvest deer on private land in DMU 081. Hunters are asked to include scheduling availability for each hunting event they are interested in attending.
To register please fill out all required fields on the form located here.